Yeh Rishta Kya Kehlata Hai, Anupamaa, Ghum Hai Kisikey Pyaar Meiin and more – MAJOR TWISTS in Top TV shows this week will leave you stumped
We are here with some interesting spoilers from Yeh Rishta Kya Kehlata Hai, Ghum Hai Kisikey Pyaar Meiin, Anupamaa, Imlie, and Kundali Bhagya.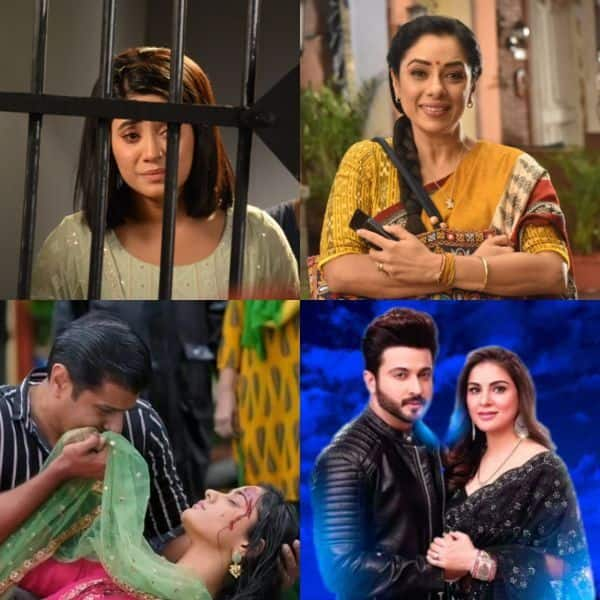 Another week has begun and it is time to look at the spoilers of the week. Yes, we tell you what you guys can expect from your favourite TV shows like Yeh Rishta Kya Kehlata Hai, Anupamaa, Ghum Hai Kisikey Pyaar Meiin, Kundali Bhagya and Imlie this week. So, without further delay, let us take a look at the spoilers of the week.
Yeh Rishta Kya Kehlata Hai
Yeh Rishta Kya Kehlata Hai will finally see the beginning of Kartik and Sirat's story. Ranveer is no more and his father Narendra Nath Chauhan has played his cards and was successful in blaming Sirat for Ranveer's death. With the news going viral, Ranveer's mother throws Sirat out of the house. A heartbroken Sirat is carelessly walking on the road when Kartik finds her and takes her home. But the Goenkas are quite reluctant in letting her stay with them. Kartik fights for her but seeing all this Sirat tells them that she will leave with Mauri. Just when she was about to leave, a police van comes to arrest her because of a complaint filed against her by Narendranath. In this week we will see that while Sirat is in jail, she will get to know another bad news. Kartik will try his best to get Sirat out of this and in this situation, they both will soon come together.
Anupamaa
Anupamaa's life isn't easy as Kavya and Rakhi both have decided to spoil everything. In this week, we will see Anupamaa tells everyone that she won't be going to the cafe because she has to take a class of housewives. But somehow Anupamaa still manages to save the day at the cafe. A regular customer asked for the Keto sandwich that Anupamaa had made, and Baa got it for her. She tells them that Anupamaa taught her how to make it just in case the customer comes again. Later, Rakhi surprises everyone by visiting the cafe and tells them that she was the one who sent a few customers there. Everyone was shocked to hear this. In the upcoming episode we will see that Vanraj refused to take any money from her, but Kavya immediately took it from her. Rakhi is just doing all this so that Kinjal can leave the house without feeling guilty about doing so.
Ghum Hai Kisikey Pyaar Meiin
While we have enjoyed some adorable #SaiRat scenes recently, the upcoming episodes will be quite hurtful to watch. A tragic incident will take place in Ayesha Singh, Neil Bhatt and Aishwarya Sharma starrer Ghum Hai Kisikey Pyaar Meiin. Sayi aka Ayesha Singh would meet with an accident after a nasty fight with Virat aka Neil Bhatt. Post this incident, Sayi will hate Virat as her family will not allow her to meet him. It is also being said that Sayi might slip into coma.
Imlie
Sumbul Touqeer Khan, Gashmeer Mahajani and Mayuri Deshmukh starrer Imlie will see a shocking twist as Aditya will soon get kidnapped from the Tripathi houses. Earlier, Aditya and Imlie were happy as they are together. Aditya also celebrates as Imlie wins the Best Bahu competition. However, Anu does not want Aditya and Imlie happy and she send goons to kidnap Aditya.
Kundali Bhagya
Dheeraj Dhoopar and Shraddha Arya starrer Kundali Bhagya will see a new entry of Mansi Srivastava as Sonakshi. We saw that Kritika confronts Sherlyn and asks Sherlyn about her plan of killing Preeta's unborn twins. Srishti overhears their conversation and attacks Sherlyn and tries to harm her. Srishti decides to tell the family but stops after seeing everyone happy. Later, Sherlyn gets angry at Prithvi for telling Kritika about her plan. She lashes out at him and ends her relationship with Prithvi. Meanwhile, Preeta learns about Sherlyn's intention and she warns her to reveal about her plan of harming the baby in front of the Luthra family. In the coming episode, Karan's best friend Sonakshi enters Karan and Preeta's lives. She comes to invite Karan and the Luthra family to her wedding. They all agree to join in for her big day.